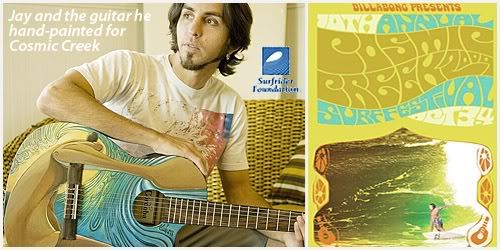 The Cosmic Creek Music & Art Extravaganza takes place at 7 Degrees (Laguna Canyon) Saturday night, Oct 3rd 2009 as part of the Cosmic Creek event that includes a retro-style surf contest and beach BBQ.
With performances by an amazing gathering of famous artists, musicians and surf legends, the music and art extravaganza is part Woodstock/ Warhol Factory/ surf stomp/ & great Charity event all rolled into one evening.
Surf and Music star Donovan Frankenreiter brought in dozens of incredible Italian Cordoba guitars to be displayed at 7 Degrees outdoor grounds. Well known artists (John Van Hamersveld, Wolfgang Bloc, Andy Davis, Tyler Warren, Herbie Fletcher, Jay Alders, Kevin Short, Daniel Chang, Timmy Patterson and host of others) will do their interpretation of art/ installation, etc on the actual guitars, making this a unique, not to be missed exhibit. Charity Auction and Concert benefits The Surfrider Foundation.
(click guitar for larger view)
A silent auction will be held to help local community charities provide for some needy people, along with Surf Rider clean water testing in the local area. All guitars and art will be on display along with a powerhouse concert guaranteed to be a one of a kind experience.
"Donny and surprise guest musicians will play their hearts out," says event creator Eric Diamond. In years past these unannounced superstars have included Jackson Brown, Pennywise, G-love, Warren G, & Sugar Ray.  "It's just a super positive symphony of Art/Music/ Food & people all gathered together for Charity," says Diamond. "Get your tickets now – this will sell out fast."
www.billabong.com/cosmiccreek/
Big thanks to Billabong for the awesome tweet and blog about me and my surf art!
Check out the Billabong Blog here
Thanks to Surfline for the great Cosmic Creek coverage including Jay's guitar . Click Here.
EVENT PHOTOS
Thanks to Surfline for the great event coverage of Cosmic Creek and photos of Jay's hand-painted guitar
Check out the Surfline Feature here.
Thanks to ESPN for their coverage of Cosmic Creek and mention of Jay Alders

Thanks to The Laguna Beach Independent for their coverage of Cosmic Creek & mention of Jay Alders
Thanks to The Dana Point Times for their Cosmic Creek Coverage & mention of Jay Alders